Party loot bags
Party bags are essential for any party. Making party loot bags yourself not only saves you money but also adds a personal touch to the party.
We have prepared a step-by-step method for you. But before we proceed, here is a list of what you might need:
1) Construction paper
2) Scissors
3) Glue/tape
4) Ribbons
5) A ruler
6) Skewer
Step 1: Take two A4 size papers and stick them together at the longer sides. To stick them together, use glue and make sure there is no crease. Join the paper by folding them in half, but also leave a cm of space. Then apply glue on the space left and fold it inwards. The bag should now be closed on both sides.
Step 2: Fold them from both sides by an inch with the help of a ruler and start to press with scale. Now up the folds and push the middle part in, and flatten the fold.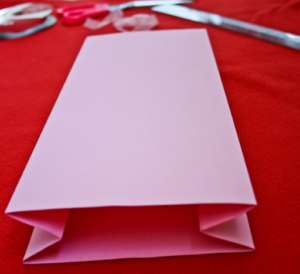 Step 3: To close the bottom, make a big fold of 2.5 inches and press it with a ruler. Open up the fold, and you will see a triangle as shown on each side.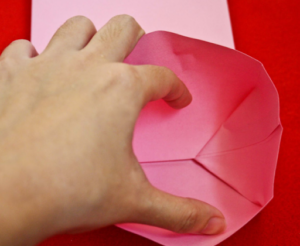 Step 4: Open up the top and bottom sides. And push down on the right side. Ensure that the middle line of the triangle is in line with the middle line of the fold.
Step 5: Now fold the paper as shown above. Repeat on the other side as well. 
Step 6: Apply glue on the triangular part of the bottom. Avoid gluing the middle area. Apply glue on the upper triangles and also the middle area to seal the bag.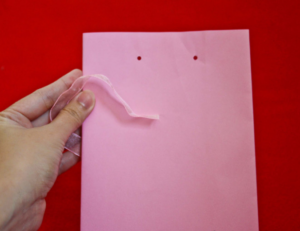 Step 7: Poke out two holes using the skewer to make a handle. Make sure to do it in the middle area at the top.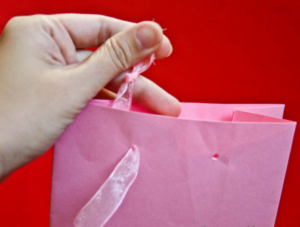 Step 8: Cut two ribbons of equal length, about 25 cm would be ideal. Use the skewers to insert ribbons through the hole and tie a double knot at the end. Do the same for the ribbon on the other side.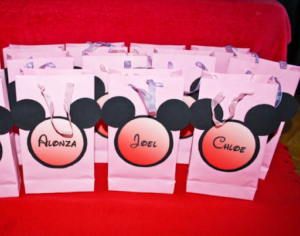 Step 9: According to the theme, you can design the paper party bag accordingly. For instance, you can decorate it with Disney themes or any other cartoons of your choice. 
Step 10: Your bag is now ready to be taken to the party! You are all done and ready to go. 
Conclusion: 
You can use these bags to put the names of guests coming over. With these bags, the kids will feel special and thrilled about the party. You can place candies and small toys inside the bag. Moreover, the benefit of using paper is that it is reusable and easily recyclable. So no problem if the kids crumble and throw it away after the event