10 cheap and fun summer activities for kids
Summer comes, and school goes. Kids get excited to stay home all day. Until boredom strikes. And it strikes fast. For parents, there are two options: hear them complain all day or keep them occupied. I bet the second option is the logical one.
Here are ten fun and cheap activities for kids during the summer. 
DIY chalk bomb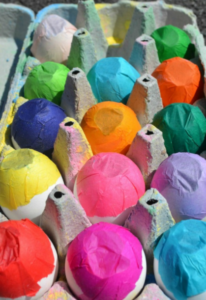 This outdoor activity is fun and easy to do. It involves lots of colors which means kids will love it. 
You can make a washable chalk paint mixture by mixing 1 cup of water with two tablespoons of cornstarch and food coloring of your choice. Use a pump bottle to fill the balloons with paint and let the kids go wild. 
Plant and maintain a garden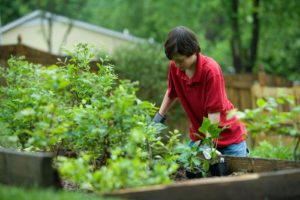 A perfect way to get the kids out is to plant and maintain a garden. It is a great way to engage them in active learning on how life works. In this way, they will be learning science and playing at the same time.
You can even do a fairy garden and let them run wild with their imagination. 
Scrabble inspired DIY outdoor game
https://www.youtube.com/watch?v=kK5otj5IcuA 
If you are a scrabble lover and want to enjoy the nice weather out, this one is for you. The outdoor scrabble is a fun backyard activity for the family.
Upcycle some old cardboard and cut them in A4 format. Write down a letter on each cardboard. Use the cardboard to make the letter stands too. Go outside and set up the game, and have fun.
Visit a petting zoo (or a pet store)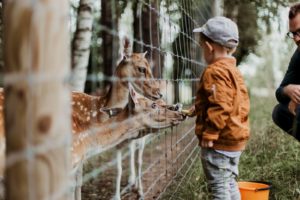 Kids love animals. But most importantly, they need to be educated on them. With a visit to a petting zoo, they will get excited and have the opportunity to connect with the animals.
If the petting zoo is too expensive, then visit your local pet store.
Glow in the dark tic tac toe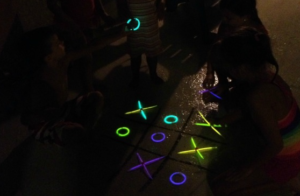 As the sun sets out and starts to get darker, kids (and you) will have tons of fun playing tic tac toe with glowing sticks.
It is cheap, fun, and easy to set up. Use chalks to make the boards and about 20 glowing sticks to make the Xs and Os. 
Decorate rocks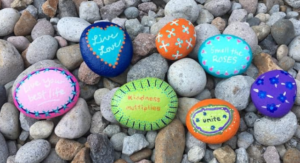 Let your kids express their creativity during this summer using colors and paints.
Next time you go on a hike, make them collect unique rocks they like. Back home, bring out all art and craft supplies such as paint, stickers, or glitter and let them create. 
Use the rocks as decoration around the house. They will feel proud of their creation on display. 
Papercraft (origami)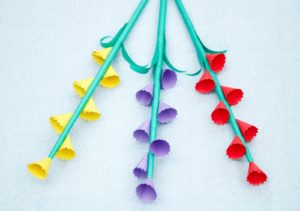 Papercraft is a perfect indoor activity for kids during the summer. It is cheap and gives room for the children to dwell in their imagination.
You can get engaged with the kids and learn with them origami and create beautiful paper figures and memories.
Plastic bottle bowling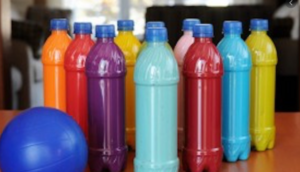 Upcycle your soda plastic bottles by turning them into bowling pins. Get the children engaged in painting and decorating the plastic bottles and set up a bowling alley in the backyard.
It is fun and barely costs anything.
Make a water wall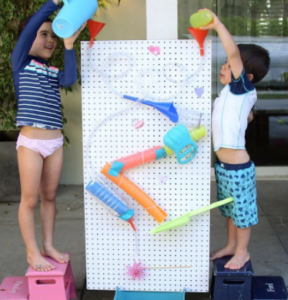 A fun activity to cool down the kids this summer is making a water wall. Kids will enjoy the time spent playing with water. It also helps them strengthen their motor skills. 
Though it might look hard to do it, all you need is a visit to the hardware store to get peg wood board, funnels, zip ties, and clear tubes. Here is a friendly link to help you with making the wall. 
Hiking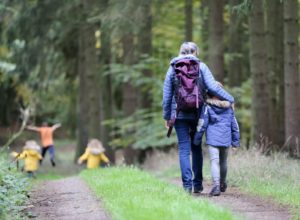 Hiking is a perfect summer activity for the family to spend time together. 
You don't need to go far away. All you need is a trail you and your kids can manage to do. It will keep the kids active and engaged. You can spice more fun by planing hiking activities such as a scavenger hunt or asking questions.
In conclusion
Just because children are out of school during the summer doesn't mean they can't be active. Get them engaged in fun and creative activities without spending big bucks. Let them express themselves and learn new things along the way.