Dress to Impress: Dress Codes and Fashion for Adult Parties
Discover the Art of Dressing for Success: Our comprehensive guide to adult party fashion delves into the nuances of dressing appropriately for various occasions. From elegant black-tie events to relaxed backyard gatherings, you'll find advice on striking the perfect balance between style and comfort. Embrace the power of fashion to express your personality, and learn how to accessorize to elevate any outfit to the next level. Dress with intention and showcase your unique flair, leaving a lasting impression on fellow party-goers.
Dressing to impress at adult parties is an art form, and our blog provides you with all the tools to master it. Embrace fashion as a form of self-expression and let your attire speak volumes about your confidence and personality. With our tips and fashion insights, you'll be the center of attention at any event, radiating sophistication and charm. Unleash your inner fashionista and be ready to dazzle as you navigate adult party dress codes with ease and grace.
Chic and Confident: The Ultimate Guide to Dressing for Success at Adult Parties
When the invitation to an adult party arrives, excitement and anticipation set in, but so does the inevitable question: "What should I wear?" Dressing to impress at adult parties is an art that allows you to showcase your unique style while adhering to dress codes that set the tone for the occasion.
Whether it's a formal gala, a sophisticated cocktail party, or a laid-back social gathering, your attire can make a lasting impression on fellow party-goers. In this blog, we'll explore five practical tips to help you navigate adult party dress codes and elevate your fashion game to impress at every event.
Tip 1: Decode the Dress Code
The first step to dressing appropriately for an adult party is to decode the dress code mentioned on the invitation. Whether it's black tie, cocktail attire, business casual, or casual, understanding the dress code is essential in choosing the right outfit. Black tie calls for elegant evening gowns or tailored tuxedos, while cocktail attire calls for chic dresses or sharp suits.
Business casual allows for a more relaxed yet polished look and casual events welcome comfortable yet stylish ensembles. Familiarize yourself with these dress codes to ensure you strike the perfect balance between being stylish and adhering to the party's theme.
Understanding the dress code not only helps you make appropriate fashion choices but also ensures that you feel comfortable and confident at the event. By adhering to the suggested attire, you become an integral part of the party ambiance, seamlessly blending in with other guests and contributing to the overall party experience. Decode the dress code with care, and you'll be well-prepared to turn heads and leave a lasting impression at every adult party you attend.
Tip 2: Embrace Timeless Classics
When in doubt, opt for timeless classics that never go out of style. A well-fitted little black dress is a go-to option for many formal and semi-formal occasions. For men, a crisp dress shirt paired with tailored trousers exudes elegance. Classic pieces like these offer versatility and can be easily accessorized to suit the specific party ambiance. Embrace wardrobe staples that reflect your personal style and can be dressed up or down for various adult party settings.
Timeless classics also offer the advantage of longevity and value for your wardrobe. Investing in well-made, classic pieces means you'll have versatile go-to options for many occasions, reducing the need for constant wardrobe updates. These classic garments can be styled differently for various events, making them timeless investment pieces.
Embracing timeless classics not only helps you stand out with refined elegance but also contributes to a sustainable and eco-conscious fashion approach, as you rely on pieces that stand the test of time in both style and quality.
Tip 3: Accessorize with Elegance
Accessories are the key to elevating your adult party outfit. A statement necklace, sparkling earrings, or a chic clutch can add a touch of glamour to your ensemble. For men, a stylish watch, cufflinks, or a pocket square can enhance a formal look. Choose accessories that complement your outfit and express your individuality. Remember, it's the little details that can truly make your attire stand out in a crowd.
For men, accessorizing with elegance can be just as impactful. A stylish watch or a pair of cufflinks can add a refined touch to a tailored suit. A pocket square can inject a pop of color and personality into a classic jacket, showcasing attention to detail and a keen eye for style. When accessorizing, remember the old adage: less is more.
Opt for a few carefully chosen pieces that complement your outfit and enhance your overall look. Accessories should complement your attire rather than overpower it, allowing your unique style to shine through while adding an extra layer of elegance to your adult party outfit.
Tip 4: Dress for Comfort
While it's essential to dress impressively, it's equally important to feel comfortable in your outfit. Ensure your attire fits well, allowing you to move with ease and enjoy the party without any wardrobe-related distractions. Uncomfortable shoes or constricting clothing can dampen your party experience, so opt for fashion choices that strike a balance between style and comfort.
Dressing for comfort is an essential aspect of nailing your party look in Dress to Impress: Dress Codes and Fashion for Adult Parties. While it's natural to want to make a stylish statement, feeling at ease in your outfit is equally important. Opt for clothing that allows you to move freely and enjoy the festivities without any discomfort. Consider breathable fabrics that are suitable for the party's setting and climate.
For a formal affair, choose dresses or suits with a comfortable fit, and opt for dress shoes that won't leave your feet aching after a few hours of dancing. When attending a casual gathering, embrace relaxed yet chic ensembles that effortlessly transition from socializing to mingling.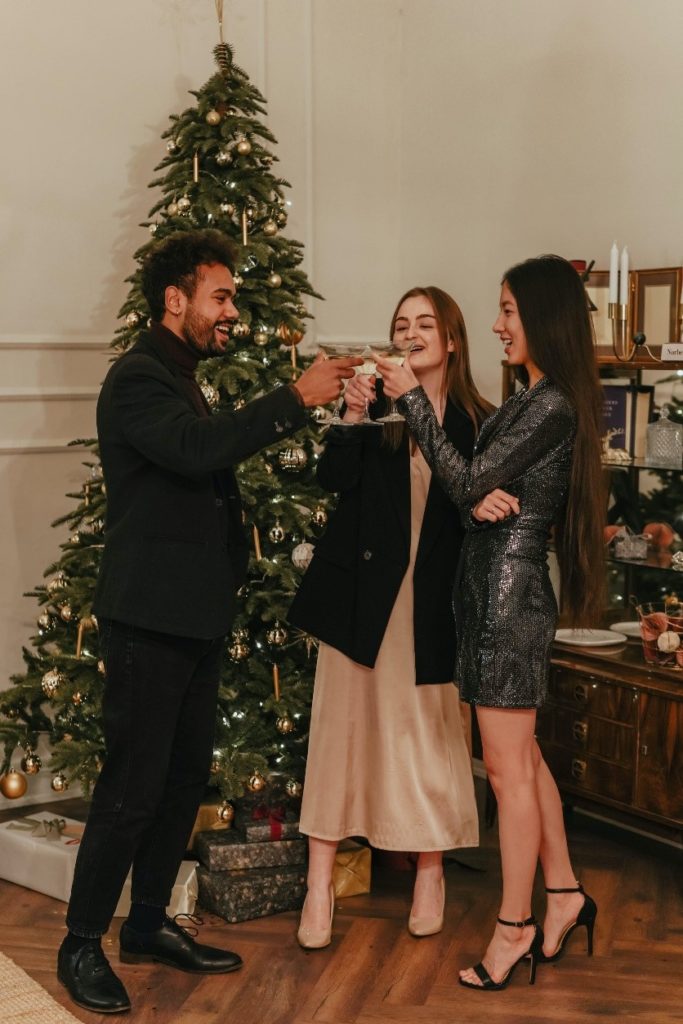 Tip 5: Express Your Unique Style
While adhering to dress codes and fashion trends is essential, don't be afraid to express your unique style and personality through your outfit. Your attire is a reflection of who you are, so embrace colors and silhouettes that make you feel confident and fabulous. Personalize your look with touches of individuality, and let your fashion choices make a statement about your sophistication and flair.
Moreover, expressing your unique style goes beyond clothing choices. It extends to your overall demeanor and how you carry yourself at the party. Be genuine and authentic in your interactions, radiating a sense of self-assurance that complements your fashionable attire. Confidence is the ultimate accessory, and when you feel comfortable and proud of your unique style, it naturally shines through, leaving a lasting impression on everyone you meet. So, embrace your individuality, celebrate your style, and let your fashion choices speak volumes about the confident and fabulous person you are.
Conclusion
Dressing to impress at adult parties is an exciting opportunity to showcase your style and sartorial finesse. By decoding dress codes, embracing timeless classics, accessorizing with elegance, prioritizing comfort, and expressing your unique flair, you can confidently make a lasting impression at any adult gathering. With these five tips in mind, you'll be ready to elevate your fashion game and exude sophistication and charm at every event. So, step into the spotlight and let your fashion choices shine as you Dress to impress at all your adult parties.